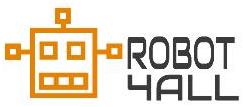 "Bridging the Skills Gap: Strategies for the Promotion of Digital, Coding and Robotic Skills for Social Inclusion, Equality and Access (Robot4All)"
"Eliminarea Decalajelor privind Competentele: Strategie de Promovare a Competentelor Digitale, de Programare si de Rototica pentru Incluziunea Sociala, Egalitate si Acces (Robot4All)"
Numarul Proiectului
: 2017-1-DE02-KA202-004274
Obiectiv
: Proiectul Robot4All a demarat in Noiembrie 2017 si va introduce programarea si robotica in scolile si liceele vocationale (VET) ca o cale inovativa de adresare catre deficiente, excluderea sociala, prejudicii si disparitati educationale. Proiectul are ca obiectiv principal proiectarea si realizarea unui SET DE INSTRUMENTE si a unui PACHET EDUCATIONAL pentru dezvoltarea, realizarea si monitorizarea strategiilor inclusive pentru promovarea competentelor de programare si robotica in liceele vocationale (VET).
Robot4All se adreseaza obiectivelor specifice de tara si are ca scop stabilirea de standarde comune pentru evaluarea instruirii in tarile Uniunii Europene.
Proiectul este cofinantat de Comisia Europeana prin Programul Erasmus+ KA2 VET.
Coordonator Proiect
: Leibniz University of Hanover/Germany
Partneri
: VET-school 2EK Peraia from Athens/Greece, IT educational centres Emphasys and Cyprus Computer Society from Nicosia/Cyprus, IT service centre Civic from Edinbourgh/UK, the NGO CDIMM from Baia Mare/Romania, NGO Women in Digital Initiatives from Luxembourg and the VET-school IES Maria Moliner from Segovia/Spain.
Perioada de desfasurare a proiectului este de 30 luni: noiembrie 2017 – aprilie 2020.
Date de contact:
Radu BIG - coordonator Romania / radu@cdimm.org
Pentru mai multe detalii privind proiectul si activitatile acestuia:
https://www.facebook.com/ROBOVET4ALL/